MULTI AWARD WINNING CRAFT BREWERY
CASK AND BOTTLE CONDITIONED ARTISAN BEER

From our home in the heart of Northamptonshire, the Great Oakley Brewery produces an exceptional range of real ales in an array of diverse styles.
Are you
a hophead,
a sweet tooth
or a balance
of both?
Is your
favourite beer
dark and smoky
or golden and
grapefruity?
We know it's difficult to know what a beer will taste like from its name alone, or how it looks on the pump clip in your local. Our friends at Cyclops Beer have tasted and 'Cyclopsed' around 2,500 beers so that you can find out quickly and easily what a Great Oakley Beer will look, smell and taste like. This will help you to discover what you like and what you don't, so that choosing one from our range becomes easy.
Recent Awards
Northampton County Beer Festival 2018
Old Ales and Strong Milds - Winner

Northampton County Beer Festival 2018
Overall Champion

SIBA Independent Beer Awards 2018 - Gold
Regional Bottle/Can Winner - British Dark Beers
View All Our Awards
What Our Customers Are Saying
Wagtail blew us away!

"Hi there, just wanted you to know we popped to the Birmingham Beer Festival last night [28th October 2016] and your Wagtail Ale blew us away!!! It was our favourite of the night!! We will be looking into your Ales and see where the nearest place we can buy or drink from!! Thanking you. Cath & Daz"

Tiffield Thunderbolt – Best pint ever

"I've just tasted Tiffield Thunderbolt in the Raven in Bath for the first time and couldn't believe how lovely it was. The owner agreed it was but sadly he's about to run out. If the West Country has run out could I have a crate delivered at home?
Best pint Ever well done!
Please put me on your mailing list!!!"

A 'keen fan' of Great Oakley Brewery

"Hello Phil & Hazel. I guess I am one of that ever-growing band of beer nerds. I drink, I score, I list. I've had over 2000 different real ales in the last 6 years (when i started listing again) and I would like to tell you how much I have enjoyed your beers (I've had 6 of yours), especially Gobble, Wagtail and Wot's Occurring. Once I've had more than 5 different beers I 'average' the scores of the beers I've had to work out and rank the various breweries. Of 141 breweries Great Oakley lies 2nd=, which is a fantastic result. Please keep up the good work as I'm a keen fan of it."
Our Story
From its location in the heart of the Northamptonshire, the Great Oakley Brewery produces a wide range of first-class, award winning real ales.
Founded in 2005 in the small village of Great Oakley this family-run business moved to Tiffield in 2012 where Guy continues to build the brewery's excellent reputation. Over the years it has gone from strength to strength with its beers winning a number of prestigious awards.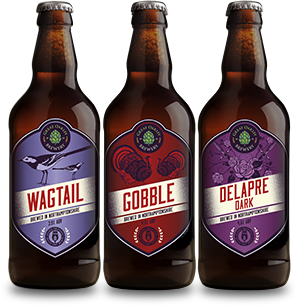 subscribe to win
Enter your email address to be in with a chance of winning a set of our three most popular ales!